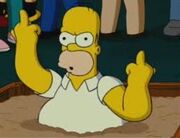 Crow number four
Personal information
Full name
Kurt Tippett
Nickname(s)
CN4
Date of birth
The day he was born
Place of birth
Warrior Wastelands
Date of death
His day of death
Place of death
Warrior Wastelands
Height/Weight
12km, 54ton
Position(s)
Utility
Club information
Current club
OFG Warriors
Number
7
Playing career1
Years
Club
Games (Goals)
S16
OFG Warriors

0 (0)

1 Playing statistics to end of season .

Career highlights
Crow number four is a player for the OFG Warriors in the Sweet FA, whose goal in life is to change their BigFooty username to Danger: Texas Ranger. Crow has been said to possess the football skills of Gary Ablett combined with the financing skills of Kurt Tippett.
Season 15
Edit
Joined after season 15 and became an active advocate to the Warriors cause.

References
Edit
Ad blocker interference detected!
Wikia is a free-to-use site that makes money from advertising. We have a modified experience for viewers using ad blockers

Wikia is not accessible if you've made further modifications. Remove the custom ad blocker rule(s) and the page will load as expected.