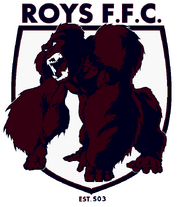 Dicky Fitzwell
joined the
Roys FFC
in
Season 15
, bringing with him a edgy runabout style that was appropriate for his cheeky dialogue, laced with double entendres. Thrust into attacking roles early, Dicky developed a reputation for penetrating unsuspecting defence lines for scoring opportunities. A wet-weather performer, he would add rigidity to the Roys' multi-pronged attack.
Ad blocker interference detected!
Wikia is a free-to-use site that makes money from advertising. We have a modified experience for viewers using ad blockers

Wikia is not accessible if you've made further modifications. Remove the custom ad blocker rule(s) and the page will load as expected.