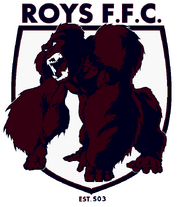 Maroon Goon
is a current player with the
Roys FFC
in the
Sweet FA
. He commenced with the Roys in
Season 12
as a bit-player list filler and was only nominally impressive through his first couple of seasons, but flourished into a primary team member - in terms of both on-field performance and activity - in
Season 15
. Regardless of what his name may suggest, MG may be cheap, but he cannot be drawn from a cask bladder.
Ad blocker interference detected!
Wikia is a free-to-use site that makes money from advertising. We have a modified experience for viewers using ad blockers

Wikia is not accessible if you've made further modifications. Remove the custom ad blocker rule(s) and the page will load as expected.