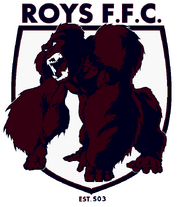 Mr Ripper
is a past player aligned with the
Roys FFC
between seasons
03
and
11
. His history with the league extends further than that, though, playing with other clubs in the first two seasons of the competition (
Team Kournikova
in
Season 01
), and remaining on the Roys' playing list (though never selected to play) for a further three seasons past his last match.
Mr Ripper spent most of his time in defence, often holding down the full back position. A 'sometimes' player, in his nine 'playing' seasons with the Roys, he managed only 66 games.

Summary:
Season 01 - Team Kournikova - 14 games
Season 02 - Darkness Eternal - 13 games
Season 03 - Roys FFC - 16 games
Season 04 - Roys FFC - 28 games
Season 11 - Roys FFC - 21 games
Season 12 - Roys FFC - 0 games
Season 13 - Roys FFC - 0 games
Ad blocker interference detected!
Wikia is a free-to-use site that makes money from advertising. We have a modified experience for viewers using ad blockers

Wikia is not accessible if you've made further modifications. Remove the custom ad blocker rule(s) and the page will load as expected.