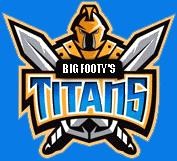 Seasons : 01-06 (2nd, 4th, 4th, Fnls, Fnls, 9th)
Premierships : None
Mobbenfuhrer Medallists: AlfAndrews (01)
AlfAndrews Medallists : AlfAndrews (01)
Team Kournikova has the inviolable honour of being the oldest team in Sweet FA history.
Formed by Mags and QT whilst inaugural Administrator Mobbenfuhrer was hunting around to fill a first team, this club took to the field in the first match played on Bigfooty soil, defeating the next-to-be-formed Dingoes in a scratch match that trumpeted the arrival of early legend AlfAndrews (9 goals) and setting the benchmark for the initial season.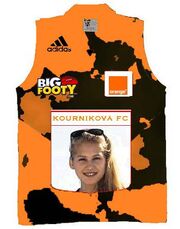 After winning the first preseason competition, and coming runners-up in the regular season, the name 'Team Kournikova' was dropped, and the team entered
Season_02
using their nickname "The Titans" as their new club name. Unfortunately, this proved an ill omen, as the Titans were never able to reprise the strong showing of the first season. They dipped out of the next four finals series with semi-finals losses, before missing the finals for the only time in their existence, in
Season_06
. At the end of this season, the Titans disbanded.
The Titans were arguably the most identifiable of the "past clubs", despite never having won a premiership.
Ad blocker interference detected!
Wikia is a free-to-use site that makes money from advertising. We have a modified experience for viewers using ad blockers

Wikia is not accessible if you've made further modifications. Remove the custom ad blocker rule(s) and the page will load as expected.